Open to all artists residing in Benton, Chelan, Douglas, Franklin, Grant, Kittitas, Klickitat, Okanogan, Walla Walla, and Yakima Counties.
Only original artwork executed by the artist within the last two years and not previously shown in a juried Larson Gallery show will be considered.
ELIGIBLE MEDIA
acrylic
ceramic
drawing
fiber
glass
metal
mixed media
non-traditional materials
oil
print
watercolor
wood
photography.
Artwork will be juried from digital image files uploaded online at
larsongallery.org.
SUBMISSION REQUIREMENTS
Digital images must be cropped to the artwork itself. Do not include the frame or mounting in the digital image.
Actual work must be identical to image.
File format: JPEG only
File size: approx 4 MB maximum
For each artwork include one overall image and up to two optional detail images. For 3-dimensional artwork submit one overall image and up to two detail images.
Files must be named: "A, B, C, or D_TitleOfWork_Medium.jpg". ie: "B_MorningWalk_Watercolor.jpg"
Optional detail images should be labeled "A-detail1, A-detail2".
Sets: Artworks of multiple units are considered as one "ARTWORK" only when priced and labeled as one piece. Sets must include 1 image of the overall set and may include details of each separate piece.
ACTUAL SIZE OF ACCEPTED FINISHED WORK
2-Dimensional artwork cannot exceed 72" in any direction, including sets.
3-Dimensional artwork cannot exceed 8 square feet of floor space, 8 feet in height, or weigh over 100 pounds.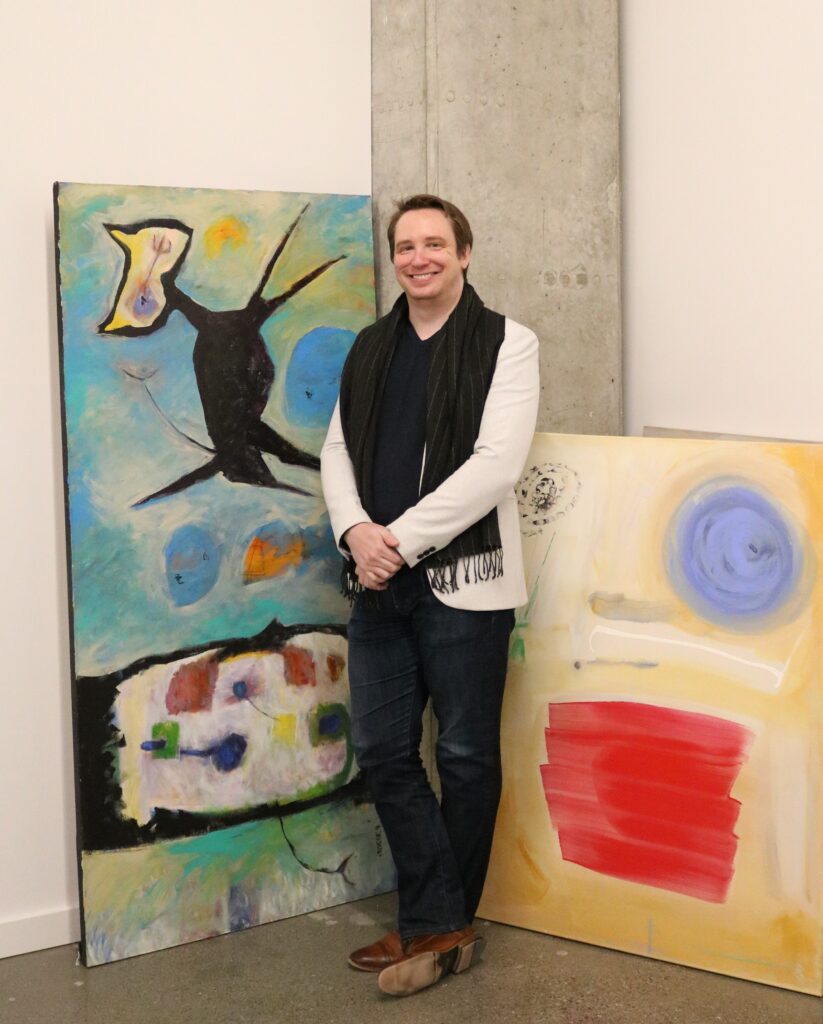 Ryan James is Gallery Director and Art Consultant at ryan james fine arts, founded in 2011 by James, who was joined by business partner Jessica Kravtiz in 2014. Located in Kirkland, ryan james fine arts, showcases both known and emerging artists specializing in abstract, modern and conceptual arts. A champion for arts on the Eastside and beyond, Ryan serves on the Bellevue Arts Museum Board of Trustees, is the former Kirkland Cultural Arts Commission Chair and serves on the Greater Kirkland Chamber of Commerce Board of Directors. This award-winning art advocate and curator has been widely acknowledged for his excellence in the field, with his gallery earning Best Art Gallery from 425 Magazine for four consecutive years (2018, 2019, 2020 and 2021). Also known for his extensive volunteerism including and beyond the world of art, Ryan won Best Community Volunteer in 2020 from the Kirkland Reporter.
HAND-DELIVERED SUBMISSIONS
Digital images may be submitted by USB or CD at the Larson Gallery by September 23 at 5pm.
CONDITIONS
The Larson Gallery, Larson Gallery Guild, and Yakima Valley College, hereinafter referred to as "THE GALLERY," together make the following conditions applicable for all artists entering art for exhibition: (1) The Gallery reserves the right to photograph exhibiting artwork for limited publicity purposes; (2) all art must remain on exhibition throughout the designated show schedule; (3) a commission of 35 percent will be charged on all sales; (4) sales tax will be collected and reported for the artist; (5) The Gallery reserves the right to refuse artwork that is too fragile, oversized, or does not meet conditions of eligibility; (6) Artists are responsible for delivery, pick-up of work, and/or shipping costs, and (7)The Gallery cannot assume responsibility for loss or damage during shipment. Insurance coverage is provided during the exhibition.
RETRIEVAL OF WORK
The Gallery cannot be held responsible for any damage or loss to artwork that has been left more than 30 days following posted deadlines for picking up work. Artwork left longer than 30 days becomes the property of the Larson Gallery Guild.
IMPORTANT DATES
Deadline for online submissions—Sept 23 by 10pm
We will mail Accept/Decline notifications—Fri, Oct 1
Deadline for your ACCEPTED artwork to be shipped or dropped off at the Gallery—Fri, Oct 29
Exhibition dates—November 6-December 11, 2021
Work to be picked up or shipped—Dec 14-17, 2021
Gallery closed to the public—Dec 24, 2021 through Jan 3, 2022
Business hours during exhibitions are Tuesday through Friday 10am to 5pm, Saturdays 12-5pm
ENTRY FEES
$20/each main image – Non-Member Fee
$15/each main image – Member Fee (above $40 level of membership)
You may upload up to four main images of your artwork. If you have detail images, add them at the same time as you do your main image. Click on the button, then add up to three files (the main one and two details) at the same time.