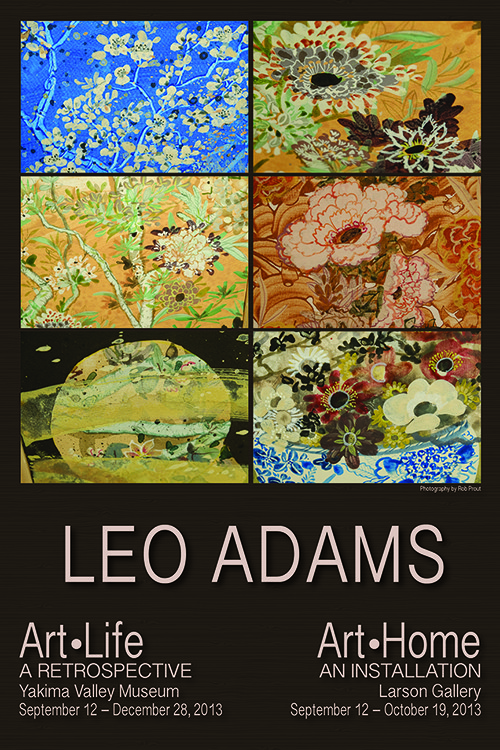 On Thursday, September 12, 2013, the Larson Gallery and the Yakima Valley Museum opened companion exhibits on the work of artist and designer Leo Adams. On the same day as the opening, Marquand Books, through the University of Washington Press, released a new volume Leo Adams | Art Home ; copies will are available at the Larson Gallery.
Leo Adams is a singularly talented artist and designer who has been a creative force in the Pacific Northwest for almost fifty years. Although firmly rooted in the Yakima Valley, where he is a member of the Yakama Nation, his influence has international resonance. Generations of artists, interior designers, and architects have been fascinated, enchanted, and inspired by his home, his art, and Leo himself. His deceptively modest abode just inside the boundary of the Yakama Reservation has been featured in many important publications including Metropolitan Home, Renovation Style, Pacific Northwest, and Washington Magazine.
Although Leo Adams freely admits that he is most familiar with and most enjoys painting, he is also noted for his interior design. He is able to take the most common of materials—plywood, dried vegetation, rusty metal, and any type of "found" object— assemble them in unusual ways, and create interior spaces that cannot be easily described in words. There are few other people who can create such beauty from these mundane and unlikely decorative pieces. You will have the opportunity to see some of his latest paintings and design elements from his own home in a special exhibition at the Larson Gallery.
September 12 — October 19, 2013