First Comes Love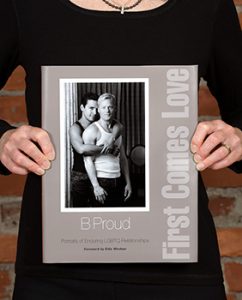 September 17 – October 22, 2016
Opening Reception, Saturday, September 17, 3-5PM
First Comes Love is an exhibit of photographs, stories, and video by B. Proud that provides a glimpse into the "everyday" lives of LGBTQ couples who have been in their relationships for 10, 20, 30, 40 and even 50 years! Unlike the stereotypical picture painted by the media, these portraits and stories seek to educate those who question, celebrate those who have loving, devoted relationships and provide an historical record of the strength of this community.
Proud is a fine art photographer and instructor at the University of the Arts in Philadelphia. She has exhibited her work both nationally and internationally in group and solo exhibitions.  Her book First Comes Love features 65 photographs and stories with a foreword by Edie Windsor.  Windsor made her mark in history for her involvement in United States v. Windsor, the landmark trial in 2013 when Supreme Court struck down Section 3 of the so-called Defense of Marriage Act (DOMA).
Build in 1911, this building was built by the Yakima Freemasons and includes a Masonic ceremonial on the top floor. Opening in March 2016 as…

The gallery is located in the Seasons Performance Hall. Once the Sunday School room of the First Church of Christ Scientist, it was transformed into…

The Cellar Gallery is located in the lower level of Gilbert Cellars, and features cellar-like stone walls, built-in bench seating, and atmospheric lighting.
Facebook
Larson Gallery
Saturday, October 22nd, 2016 at 8:57am
Susan Martin
Beautiful and inspiring show at Larson Gallery "First Comes Love"
Larson Gallery
Thursday, October 20th, 2016 at 12:40pm
Larson Gallery
Friday, October 14th, 2016 at 12:27pm