ISHAAN RAGA: THE ART OF DR DEEPALI MAHANTA KAYAL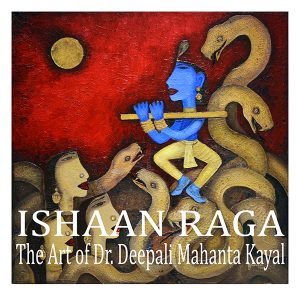 January 12 - February 25, 2017
Opening Reception, Thursday, January 12, 5-7PM
A doctor by profession, Deepali started painting at a young age after she won a national level painting competition. She has honed her skills over a period of time at several places; New Delhi, Jaipur, Chennai, and Guwahati in India. She has explored a variety of forms and experimented with different techniques and styles. Her engagement with various morbid conditions of her patients has not dampened her spirits, but rather inspired her to search for hidden beauty, pathos, and meaning in our day-to-day life. Indian folklore, mythology, and philosophy has been a recurring theme in her work. She firmly believes that art is the quest for self-expression and truth. An artist may live in a moment, but is free to let her imagination transcend all boundaries of time, space, and thought.
Build in 1911, this building was built by the Yakima Freemasons and includes a Masonic ceremonial on the top floor. Opening in March 2016 as…

The gallery is located in the Seasons Performance Hall. Once the Sunday School room of the First Church of Christ Scientist, it was transformed into…

The Cellar Gallery is located in the lower level of Gilbert Cellars, and features cellar-like stone walls, built-in bench seating, and atmospheric lighting.