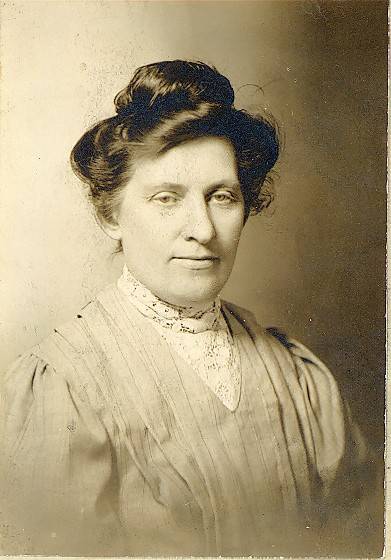 Rose Larson Courtesy of Yakima Valley Museum
In 1845, Samuel Simpson Hawkins, at 11 years old, crossed the plains with his family on their way to Oregon.  His father, Zachariah Hawkins, died on the way, and his mother continued on with the family.  At sixteen, Samuel went to the California gold mines, then later returned to Oregon.  In 1869, he married Cynthia J. Calhoon, a native of Missouri, in Benton, Oregon.   They moved to Walla Walla in 1864, then to Vancouver, Washington.  It was in Vancouver, on November 11, 1869, where their daughter Rosa Belle Hawkins was born.
In 1871, the Hawkins family moved to Tampico, in Yakima County.  On January 4, 1886, Rosa married Orlando L. Parker at the home of his father, Francis Taylor Parker.  Orlando was born on November 26, 1862 in Iowa, and had come to Yakima with his parents Francis Taylor Parker and Armeda Jane Lesh who had a farm on the Lower Naches.
Orlando and Rose had one son, Shirley DeLancey Parker, who was born in Seattle on October 22, 1886.   Orlando worked as a knot sawyer for the Sedro Lumber and Shingle Company in Seattle.
By 1895, Rose had returned to Yakima and filed for divorce. On August 9, 1897, she married Adelbert Everard Larson.