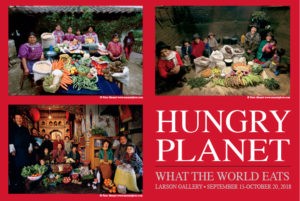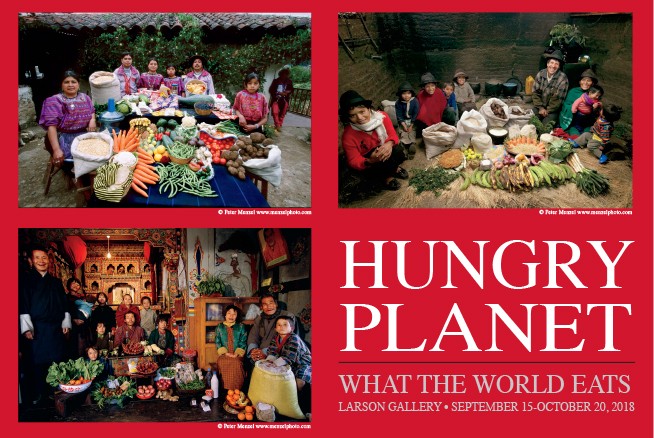 Hungry Planet: What the World Eats
September 15 – October 20, 2018
Opening Reception, Saturday, September 15, 3-5PM
Photographer Peter Menzel and writer Faith D'Aluisio sat down to dinner with 30 families in 24 different countries. Stories, grocery lists, and photos of each family surrounded by a week's worth of groceries give us snapshots to compare these families with ourselves. Hungry Planet: What the World Eats is based on the award-winning book by Peter Menzel and writer Faith D'Aluisio and is toured by COSI (Center of Science and Industry) in Columbus, Ohio. ©Peter Menzel www.menzelphoto.com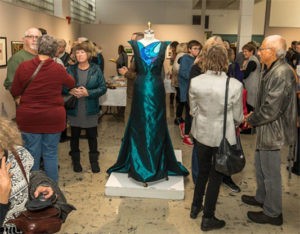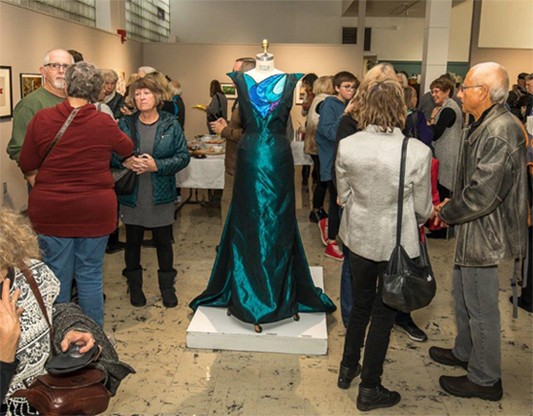 63rd Annual Central Washington Artists' Exhibition
November 3 – December 8, 2018
Celebrating its 63rd year at the Larson Gallery, the Central Washington Artists' Exhibition showcases the most current and progressive work being produced in this region. The juror for this exhibition is Devin Grimm, Koch Gallery Curator, Vashon Center for the Arts.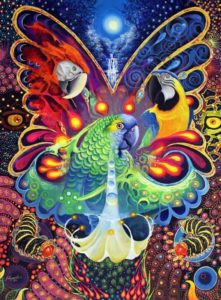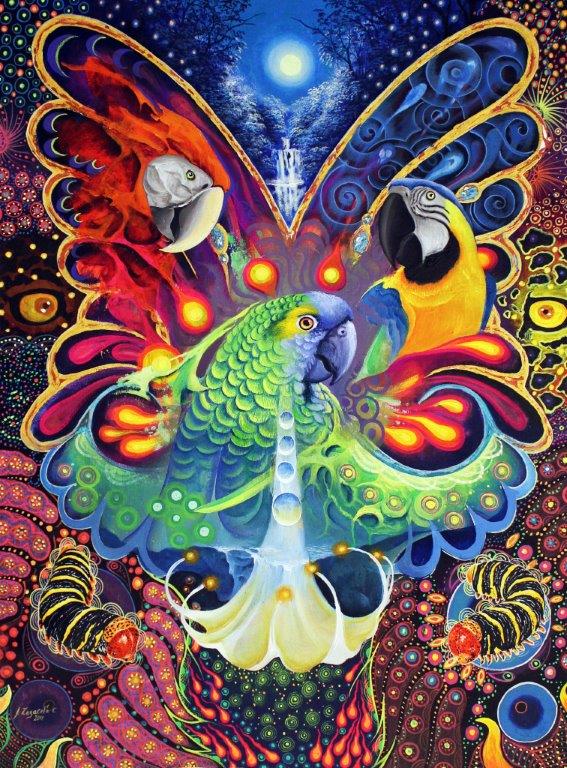 Mysteries of the Amazon
January 17 – February 23, 2019
Opening Reception Thursday, January 17, 2018 5-7pm
This exhibition features paintings by Peruvian artist Pablo Amaringo and his students from the collection of Scott Olsen, Ph.D. Completed 2001-2016, the large-scale, acrylic paintings are considered to be some of the best examples of Mestizo vegetalista and ayahuasquero shamanism. Exhibiting brilliant use of color, the paintings depict the plant, animal and human deva-like (or angelic) spirits encountered in deep ceremonial visionary experiences.
Scott Olsen is a professor of Philosophy and Religion at the College of Central Florida
This exhibit made possible through the sponsorship of the Yakima Valley Community Foundation.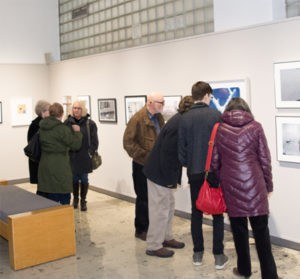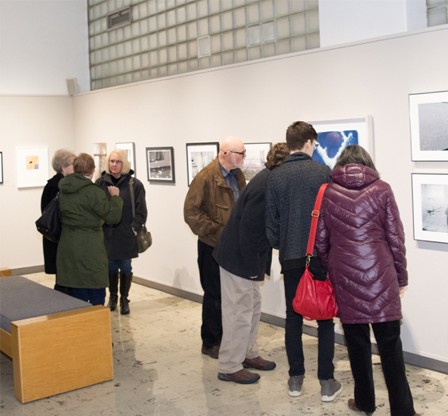 41st National Juried Photography Exhibit
March 9 – April 13, 2019
Opening Reception, Saturday, March 9, 3-5PM
This National Juried Exhibition features photographers from around the United States. The call for artists accepts both photography and video submitted online using the website callforentry.org.
The juror for this exhibition is Rebecca Cummins, Professor and Chair of Photomedia in the School of Art + Art History + Design at the University of Washington, Seattle. She received a BFA from the University of Northern Iowa, an MA from the University of New Mexico and a PhD from the University of Technology, Sydney; she previously taught for sixteen years at Sydney College of the Arts, University of Sydney.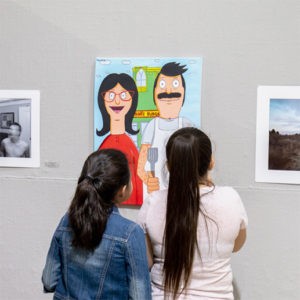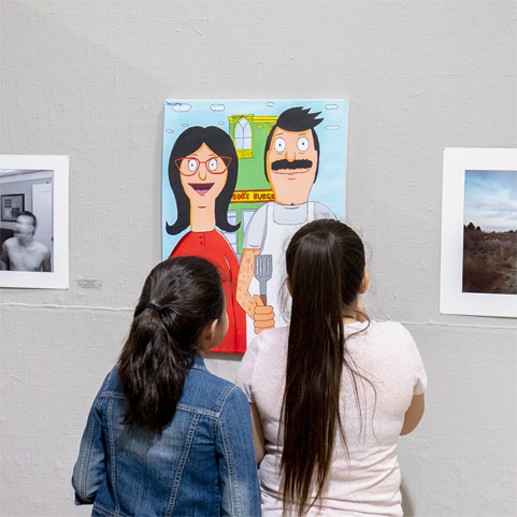 DoVA Student & Faculty
April 30 – May 25, 2019
Opening Reception, Tuesday, April 30, 5-7PM
This annual exhibit presents the artwork, created within the last year by Department of Visual Art (DoVA) students. Student work is chosen from Spring and Fall quarters of 2018 and Winter quarter of 2019 at Yakima Valley College. Classes include ceramics, painting, drawing, printmaking, photography and design. A large selection of the students' best work makes this one of the favorite exhibitions of the year and a wonderful opportunity to purchase art. In addition the student artwork, each instructor shows the creativity of their own personal work.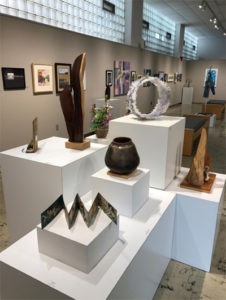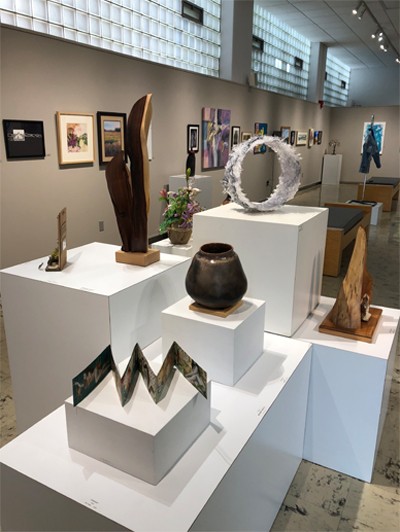 Larson Gallery Guild Member's Exhibition
June 9 – June 29, 2019
Opening Reception, Sunday, June 9, 3-5PM
This annual non-juried exhibition highlights the creativity of the members of the Larson Gallery Guild. The Larson Gallery Guild consists of 360 members and in 2018, this exhibition had around 90 entries. Since Guild members can only exhibit one piece in the exhibit, members are very selective about their work and choose their best piece. What makes this exhibit special is its variety of media. Many artists use this time to explore and exhibit the result of a new process.