PARKING PERMITS
Yakima Valley College visitor parking permits may be obtained at the Larson Gallery "13" or contact the Parking/Security Office (574-4610). The Visitor Parking Permit is valid for parking lots C, G, H, J, K and M. The Visitor Parking Permit is not valid in metered (Deccio), or pay-per-day lots.
Best times for parking to view Larson Gallery exhibitions (September — July ) are Tuesdays through Fridays, 10 am to 5 pm, and Saturday 1-5 (Gallery is Closed in August).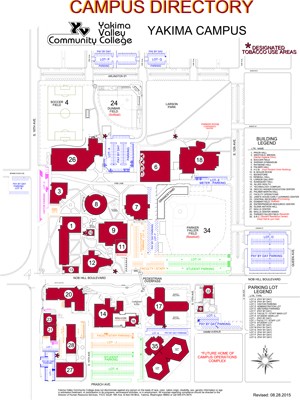 PARKING LOT C
(north of Nob Hill Blvd. on S 16th Ave.)
Parking Permits are required during the day, except for parking areas for individuals with disabilities, pay lots and fire lanes.
Lunch Time (12:00—1:00 pm)
Parking spots become more available during the lunch hour.
Afternoon (3:00—5:00 pm)
Parking spots become more available after daytime classes conclude.
Saturdays (10:00 am—5:00 pm)
-Usually open, but please check the Exhibit Schedule
Street Parking
MORE Free Street Parking can be found along Arlington Avenue (north of the YVCC Campus) and along South 12th Avenue (east of the Campus) between Nob Hill and Arlington—no time restrictions, but please obey City of Yakima street signs.
PAY LOT PARKING "A" , "B", "F", "I", "L", "N", and "O"
Paid areas (LOTS A, B, F, I, L, N, and O) are now "PAY BY THE DAY LOTS" They require payments of $1.00, exact change only, and placement of current permit on your dash.
Where is the Yakima Valley College Campus?
From I-82 take the Nob Hill Boulevard Exit (Exit #34). Turn to go west at the end of the freeway ramp (coming from Tri-Cities this would be a left turn onto Nob Hill, from Ellens burg it will be a right turn onto Nob Hill).
Stay on Nob Hill past South First Street and over the railroad overpass until you get to the light at South 16th Avenue.
Turn north (right) onto South 16th Avenue and proceed approximately one block to the entrance of the college's Visitor Parking Lot, which will be on your right.
Additional parking is available off Arlington, if you prefer (another 2 blocks north of Nob Hill). A parking fee is required