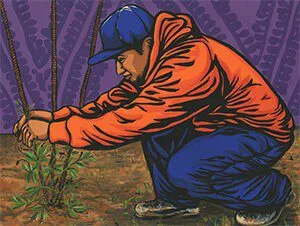 September 14- Oct 19, 2019
The recently created Center for Washington Cultural Traditions is a state wide effort to survey, study, and support folk and traditional arts and other cultural traditions. As part of this effort, CWU's anthropologist Rodrigo Rentería-Valencia conducted in 2018 the Cultural Traditions Survey project in the Yakima Valley. The purpose of this survey was to document the work and life-stories of local creators whose artistry represented in broad terms the multicultural reality of the valley. Building on this corpus, this exhibit aims to showcase the artwork, images and soundscapes of creators like Christie Tirado, Elizabeth Montes de Oca among others and the local sense of place their artistry evokes.
This project was funded in part by a Title V Developing Hispanic Serving Institutions Grant number P031S150088 from the Department of Education (DOE). Funding does not represent endorsement by the DOE.